El Pequeno Colibri has some new ceramics for sale. They are all handmade from local artisans. Some of the clay pieces come from Nasca.
For instance this clay Whale sculpture is from Nasca and is a one of a kind from Maestro Alberto Seguro.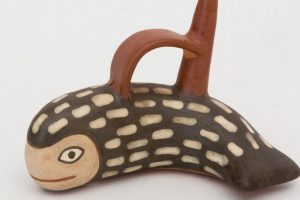 This sculpture is handmade using coiling, glazing and firing methods from ancient Nasca culture.
Some more clay pieces from master ceramist Alberto Seguro, are these functional, traditional handmade ceramic whistles. These clay whistles are handmade in Nasca by maestro Alberto Seguro. Reproductions of ancient Nasca designs using traditional pre-Columbian techniques.  Señor Seguro gathers his materials from the desert surrounding Nasca.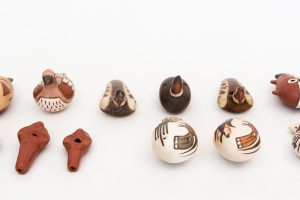 His clay is made using traditional techniques and antique tools.  The glazes are from minerals that are pulverised using an antique mortar and pestle. In addition to these clay whistles uniqueness, is that they are also functioning.
Similar to clay, are these beautiful animal stone adorned with 950 silver pendents. These pendents are created to be used in ceremonies, such as the annual alpaca shearing, these antique stone animals are from the province of Cusco.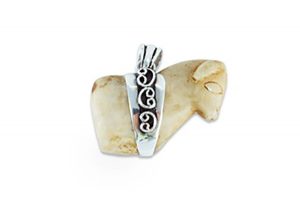 Sonia Cachi has adapted them, using 950 silver,  into one of a kind pendants.  Sonia uses traditional colonial techniques and tools to create her pieces.
There is so many great items on elpequenocolibri.com, be sure to visit us and look at locally, handmade textiles, jewelry, pottery and more!