El Pequeno Colibri has a great selection of handmade Peruvian products. They offer Peruvian textiles, Peruvian folk art, ethical clothing, and Peruvian jewelry. Local Peruvian artisans hand make the merchandised items. Each item is unique and is a one of a kind.
Textiles: This is just a single bag that is embroidered by hand by a local artisan partner, Señora Modesta.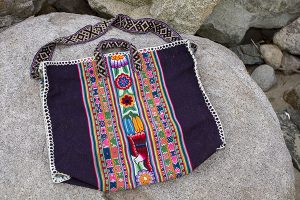 The fabric has been hand loomed from the mercado of Cusco. Señora Modesta adds in her personal touch to make this bag vibrant and unique. Another great thing about this bag is that it is a ethical and fair trade item.
Folk Art: This twin llamas sculpture is handmade in Pucara and it is adorned with 950 silver by local artisans in Cusco. Pucara is known for its handmade ceramic toros or their toritos of Pucara.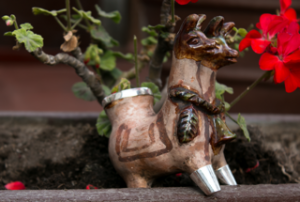 They usually sit, in pairs, on top of many roofs throughout the andean communities of Puno, Ayacucho, Arequipa, Cusco and Apurimac in southern Peru. They say these twin llamas are believed to bless marriages and protect families. They bring happiness, protection and fertility. These llamas are also a fair trade item.
Peruvian Jewelry: El Pequeno Colibri has some of the most beautiful handmade jewelry. Some of it is more simple than others but all of the pieces are truly remarkable. These mate burlado and silver disk earrings combine 2 Peruvian traditions. Mate Burlado is the technique known as carving gourds by hand.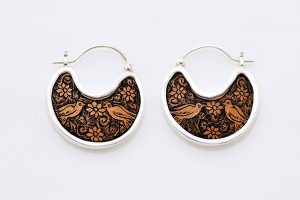 These earrings were carved by an artisan in Ayacucho. Mate Burlado is popular throughout Peru, Sonia Cachi created the earrings using colonial tools and techniques in 950 silver. You can not go wrong with these eco-friendly pieces of jewelry.
El Pequeno Colibri likes to offer ethical clothing, fair trade friendly items, and traditional Peruvian items that are easily accessible. Items are shipped from the US so there is no extra charge for purchasing items.