You'll find some of the softest, most colorful handmade textiles at El Pequeno Colibri. El Pequeno Colibri offers Peruvian textile items such as jackets, embroidered bags, vests, ponchos and throw blankets.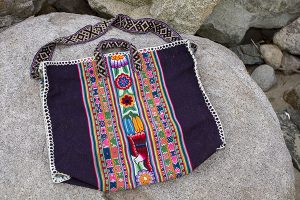 One of their most colorful textile items is their embroidered carryall bags. These bags are hand embroidered hand loomed fabric from the mercados of Cusco. The artist Señora Modesta adds her personal touch to each bag, so they're each unique.
Their softest items would be any of items made using the finest alpaca. They have pullover turtleneck, turtleneck ponchos, hooded coats, sweaters, throw blankets and Ruanas. These handmade wearable creations are lightweight, soft, and surprisingly warm.
You may be asking yourself what's so special about alpaca fiber? There are handful of reasons why you should own at least one alpaca piece of clothing.  One of the main reasons is that it is a lot warmer than wool, but has superior wicking power.  Another great reason is that it's hypoallergenic. Alpaca does not contain any lanolin so if you're allergic to wool this would be a great alternative for you.
Last but not least another great feature of alpaca fiber is that it is odor, water & stain-resistant. If in a light rain the water will bead up on the garment instead of soaking into it.