El Pequeno Colibri has a collection of artists that create hand crafted, unique ceramic sculptures, whistles and dishes. Check out their entire collection of handmade ceramics.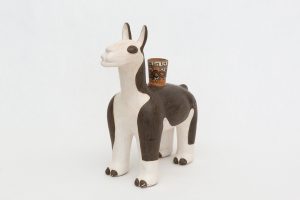 One of my favorite pieces on their site is the Handmade Llama Sculpture from Nasca. Hand crafted by Alberto Seguro using the traditional techniques of the ancient Nasca culture. This artist gathers their own ingredients for the clay from the desert that surrounds him. The pieces are then burnished by hand and fired in a wood burning kiln.
The other item that caught my attention were their handmade clay whistles. These whistles are created to look like a number of things. Some of the whistles are created in the image of birds, tribal masks, fish and more. The kicker is that these whistles are fully functional! These pieces of functional art are also created by Alberto Seguro.